---
Non-pressurized colorful steel solar water heater with assitant tank
More Product
1.With high quality assistant tank and automatic water supply.
2.Easy to install for flat roof and pitched roof, auxiliary heating by electrical heater.
3.High pressure polyurethane foaming with thickness 55mm.
4.Stable and reliable performance, well wind resistance.
5.SUS304-2B inner tank, sillicon seals.
6.High strength galvanized steel bracket.
7.Eco and economical, improves the environment and save your fuel cost.

Working principle:
This model operates to feed water automatically. Using thermosiphon system- depending on the different
density between solar hot water heater and cold water, a water flowing cycle is created in the tubes. Hot water flows antomatically upwards while the cold water flows down. The water in the storage tank will be heated from this nautal circulation.
Send Inquiry
Share to:
solar vacuum tube
,
solar water heater
,
non-pressurized water heater
---
Description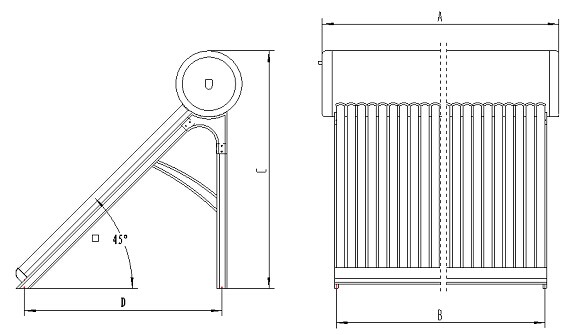 Detailed Product Description:
Advantages:
1) Can he operated completely automatic if connect with intelligent controller.
2) Simple structure, easy plug-in installation, can be installed both on flat and inclined roof, and can be used with an auxiliary electric booster as to provide tot water without sunshine.
3) Superior heat preservation ensured by one-off molding polyurethane foam with thickness 50 65mm.
4) Suitable for camping area, holiday residences.
5) stable and reliable performance, well wind resistance.
6) Meet the mankind healthy bath standard: The material of inner tank is SUS304-2B stainless steel plate; the silica gel ring sealing has a long life against the erosion and it ie not harmful to health.
 
Technical data
 
Specification & model

Full system parameter

 

 

 

 

Tube QTY(pcs)

15

18

20

24

25

30

Tube spacing㎜)

75

75

75

75

75

75

Water tank

 

 

 

 

Net Volume of Storage Tank(L)

120

140

155

185

195

230

Gross Capacity(L)

155

185

205

245

255

305

Diamater of inner/outer Tank(㎜)

φ360/φ470

φ360/φ470

φ360/φ470

φ360/φ470

φ360/φ470

φ360/φ470

length of outer tank L1(㎜)

1310

1535

1685

1985

2060

2435

length of inner tank L(㎜)

1170

1395

1545

1845

1920

2295

material and thickness of inner tank(㎜)

SUS304 /t0.41

SUS304 /t0.41

SUS304 /t0.41

SUS304 /t0.41

SUS304 /t0.41

SUS304 /t0.41

material of outer tank

color steel plate t0.45

color steel plate t0.45

color steel plate t0.45

color steel plate t0.45

color steel plate t0.45

color steel plate t0.45

material of insulation

polyurethane

polyurethane

polyurethane

polyurethane

polyurethane

polyurethane

Size of electrical heater hole

11/4″

11/4″

11/4″

11/4″

11/4″

11/4″

Cold water inlet hole

1/2″

1/2″

1/2″

1/2″

1/2″

1/2″

Hot water outlet hole

1/2″

1/2″

1/2″

1/2″

1/2″

1/2″

Assistant tank hole

1/2″

1/2″

1/2″

1/2″

1/2″

1/2″

Air vent hole

1/2″

1/2″

1/2″

1/2″

1/2″

1/2″

Drain vent hole

1/2″

1/2″

1/2″

1/2″

1/2″

1/2″

Sensor hole

1/2″

1/2″

1/2″

1/2″

1/2″

1/2″

Vacuum Tube

 

 

 

 

Diameter/Length(㎜)

φ58/1800

φ58/1800

φ58/1800

φ58/1800

φ58/1800

φ58/1800

Material

High boron and silicon glass 3.3

High boron and silicon glass 3.3

High boron and silicon glass 3.3

High boron and silicon glass 3.3

High boron and silicon glass 3.3

High boron and silicon glass 3.3

Outside thickness(㎜)

1.8

1.8

1.8

1.8

1.8

1.8

Inside thickness(㎜)

1.6

1.8

1.8

1.6

1.8

1.8

Light transmission rate

≥0.90

≥0.90

≥0.90

≥0.90

≥0.90

≥0.90

Vacuum degree (Pa)

<10^-2

<10^-2

<10^-2

<10^-2

<10^-2

<10^-2

Coating absorption

≥0.90

≥0.90

≥0.90

≥0.90

≥0.90

≥0.90

Coating emittance

≤0.07

≤0.07

≤0.07

≤0.07

≤0.07

≤0.07

Average heat waste coefficient

≤0.75W/(㎡·℃)

≤0.75W/(㎡·℃)

≤0.75W/(㎡·℃)

≤0.75W/(㎡·℃)

≤0.75W/(㎡·℃)

≤0.75W/(㎡·℃)

Frame

2 feets ( left-to-right )

3 feets ( left-middle-right )

Material

Galvanized steel t1.2

Galvanized steel t1.2

Galvanized steel t1.2

Galvanized steel t1.2

Galvanized steel t1.2

Galvanized steel t1.2

Angle

45°

45°

45°

45°

45°

45°

Tube support Specification/hole distance(㎜)

φ58/75

φ58/75

φ58/75

φ58/75

φ58/75

φ58/75

Accessories:

 

 

 

 

Tube sealing ring

Silicon rubber/φ58

Silicon rubber/φ58

Silicon rubber/φ58

Silicon rubber/φ58

Silicon rubber/φ58

Silicon rubber/φ58

Tube dusting rings

Silicon rubber/φ58

Silicon rubber/φ58

Silicon rubber/φ58

Silicon rubber/φ58

Silicon rubber/φ58

Silicon rubber/φ58

Tube holder

ABS/φ58

ABS/φ58

ABS/φ58

ABS/φ58

ABS/φ58

ABS/φ58

Item Size: